Comédie Française
Our hotel is close to the Comédie Française, the theatre also known as the "Maison de Molière" (House of Molière). Located at the heart of the Palais Royal, on Place Colette, the Comédie Française was founded in 1680, in the reign of Louis XIV. This renowned French institution, its original aim to unite several Parisian theatre troupes, has been able to survive in spite of the hazards of History, notably through the French Revolution. Prestigious classic plays are performed all year on the theatre's three stages.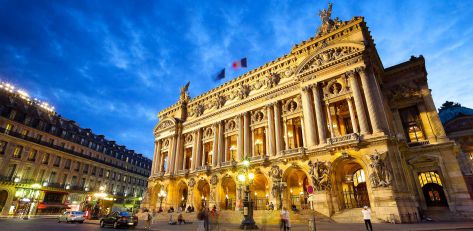 Opéra Garnier
The sumptuous Opéra Garnier was commissioned by Emperor Napoleon III from architect Charles Garnier, and is one of the most impressive buildings in the capital. From the imposing chandelier weighing several tons, which hangs from the ceiling painted by Marc Chagall, by way of the grand staircase, to the auditorium and the circular Salon du Glacier where refreshments were served, you will be amazed by the profusion of decorations.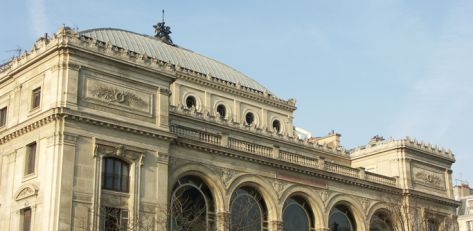 Châtelet theatre
The Châtelet theatre was built in the 19th Century, at the instigation of Baron Haussmann, who is famous for giving the city of Paris a whole new aspect in that period. The 2500 seat auditorium saw several reconfigurations during the 20th Century, with ballet, operetta and philharmonic concert performances down the years. In the 21st Century the theatre has asserted its modern credentials, choosing innovative shows with popular appeal. The Châtelet theatre's very central location makes it an unmissable element of every visit to the heart of Paris.
Other theatres...
A short walk from the Musée du Louvre, alongside the Palais Royal gardens, the Théâtre du Palais Royal is one of the oldest theatres in Paris. Designed in the "Italian" style, this prestigious theatre boasts three curved balconies encompassing the stage.
Other theatres: Daunou, the Michodière, and Edouard VII are all close to the hotel.
In the Les Halles quarter of Paris' 1st arrondissement is the Théâtre des Déchargeurs, dedicated to contemporary theatre and new French "chanson".
L'Olympia
This mythical Parisian concert venue is in the 9th arrondissement and is the city's oldest still-functioning "music-hall". A magical place, where sharing and emotion reign, it still today hosts the biggest names on the French and international scene.